Make sure your sound is turned on! Please wait up to 5 seconds for this video to load.
Turn your business into a flipping machine
MODULE #1 Capture and Qualify: Lead Management
Expert training in using Phone Systems, Answering Services, Chat Bots, CRMs, Lead Qualification, Follow Up Automation, Hiring Lead Managers and more to make sure more MOTIVATED sellers don't slip through the cracks.
MODULE #2 Pursue The Deal: Sales and Acquisitions
Learn the best practices of world class Acquisitions Managers. Swipe their Team Setup,  Pulling Comps, Due Diligence and Sales and Negotiation tactics. Monetize through Creative Financing, Transaction Engineering, and Writing Offers


MODULE #3 Follow Up: Tying It All Together

Learn Outsourcing Strategies, deploy Follow-Up Automation in the right Seller Scenarios, use Copywriting techniques to get sellers to call YOU back, Track KPIs, and learn from several 6-Figure Investors who made Follow Up their Competitive Edge.






20+ Video Interviews: with Industry Leaders like John Martinez, Daniil Kleyman, Todd Toback and More! (See full list below)
​Written Action Guides summarizing each training module to help you execute!
​Complete Audio Files to download and listen to in the car, or anywhere you're on the go. 
​Dedicated Training Portal with online access!
​BONUS: Call Scripts, Offer Calculators, PDF Generator, Lead Management Flow Charts and more...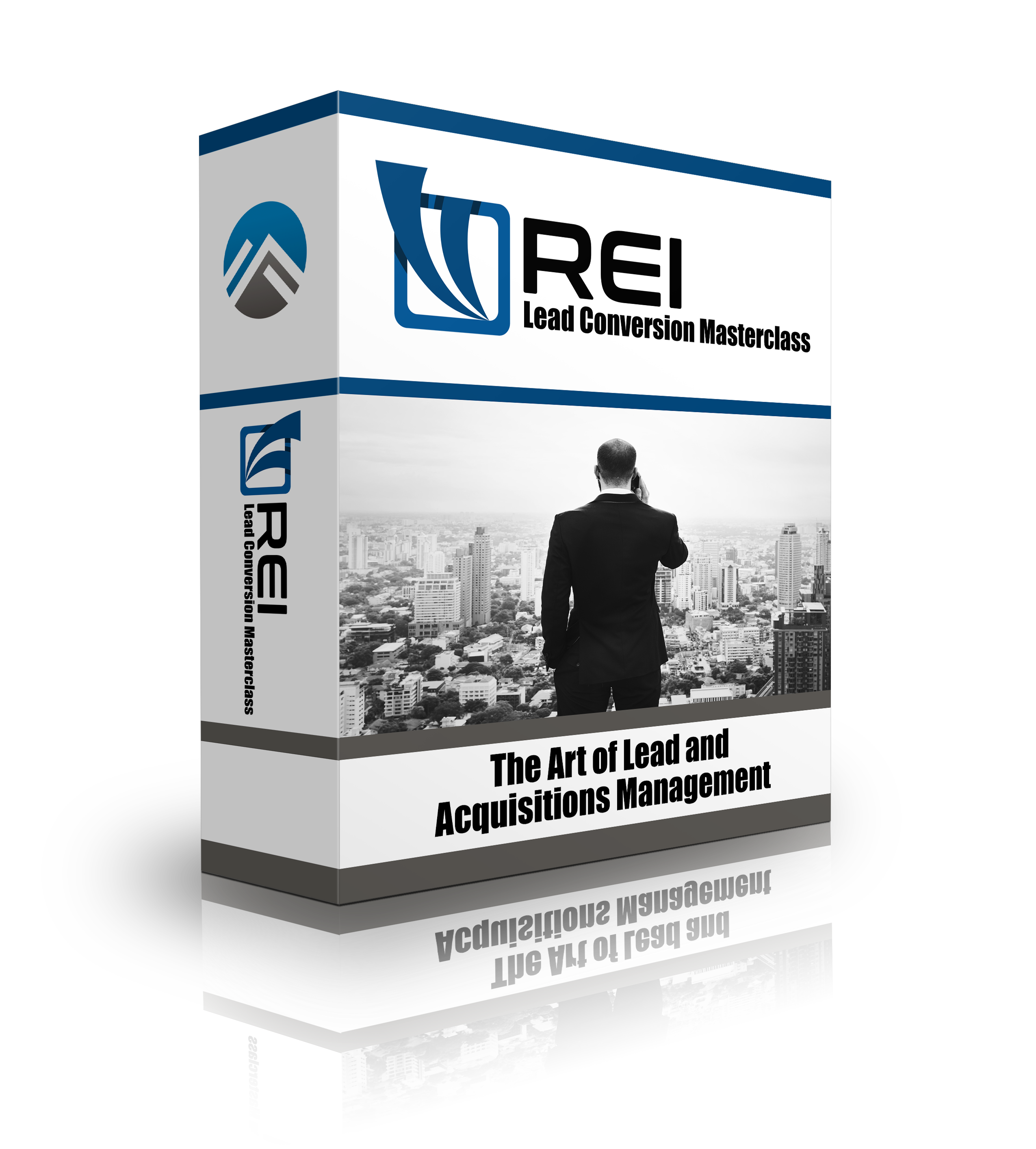 Lead Conversion Masterclass 
One payment of $1997
20+ Video Interviews with Industry Leaders like John Martinez, Brent Daniels, Todd Toback and More!
Complete Audio Files to download and listen to in the car, in your mp3 player - anywhere you're on the go. 
Written Action Guides summarizing each training module to help you execute!
​Dedicated Training Portal with online access!
For the last four years, we've been helping hundreds of investors like you close more of their leads with InvestorFuse technology. 
Introducing: The Lead Conversion Masterclass
What we found is that generating leads is only half the battle…
You also need to be systematic about what you do AFTER you generate the lead. This is where most investors fail…and we've seen all the excuses:
"I'm not consistent enough!"
"Everyone's sending the same mail piece!"
"CRMs are too complicated"
"I can't get my team organized" "There's not enough margin in my market" "…help!"
"I feel like I'm in the stone ages still and I hear my competitors footsteps!"
Sound familiar? I understand entirely…I've been there myself. 
HOW ARE SOME INVESTORS ABLE TO COMPETE WHEN MOST INVESTORS ARE USING THE SAME LEAD GENERATION TACTICS???
What we've found is that the investors who make the most money with the least effort have figured out how to: 
 Adopt a simple process for qualifying, nurturing, and converting leads into money

 Have a rock robust follow-up system building a profitable, predictable pipeline of deals

 Aren't JUST making profit from low hanging fruit
Listen…we're in a hot market. The problem is that the barrier to becoming an investor is super low. You can send mail out and be in business. These good ol' days are gone…and you need to be informed in order to actually compete...
Or risk being driven out of the market.
Low hanging fruit deals aren't enough now. You need a pipeline.
I have been investing since 2010, and have experienced every type of marketing, and can generate leads till the cows come home…but the one thing that was missing from training was what happens AFTER that.
Finding the RIGHT information about what is working TODAY…especially unique strategies that the gurus aren't willing to share became an obsession.
Sure, you can listen to a bunch of podcasts and hunt for gems…but that is a huge time suck and will lead to information overload.
 Even more importantly, we are in 2019…which means that technology runs the show with lead conversion. There are so many different, fragmented tools it will make your head spin. 
The best investors know how to leverage technology to get out of the way, and ENCHANCE the human elements of doing deals.
They understand how to track, measure and improve their acquisitions.
They know EXACTLY how much they are going to make when they spend $1 on marketing (and how long it will take to get a return on investment?
How are some investors able to compete when most investors are using to the same lead generation strategies?
How can you convert leads your competitors won't ever close? 
We see this as your biggest opportunity…and frankly obsess about how we can help our clients get more juice out of their leads.
It comes down to completely changing the way you think about your business, and understanding the funnel of real estate acquisitions.
This obsession has lead to forming relationships with some of the leading experts in REI marketing, acquisitions management, and lead management. 
They know how to quickly analyze properties, understand how to be a transaction engineer that can solve problems and generate cash from any motivated seller scenario.
We are privileged to be close with some of the best and the most technologically savvy leaders in the space. They are all actively testing their deal conversion strategies in the field, and they each bring a unique skill set and tactic…
One of our interviewees did over 300 seller appointments in 300. You'll learn how.
They have all agreed to share their playbooks with you…so you can become a Lead Conversion Master and scale your business the way you NEED to in order to compete and thrive.
Access 20+ exclusive training modules from the nation's leading modern REI marketers
 Learn to make more from your existing lead flow by using new processes to capture, qualify, follow up, and close every opportunity.
 Immediately implement with tactical, step by step study guides, info-graphics, action plans, and recommended resources.
Module Bonuses Include:
3 Option Letter of Intent Calculator Spreadsheet
 John Martinez's Outbound and Inbound Call Scripts
 Seller Scenario Mindmap (Know when to make each type of offer)
 Lead Qualification Questions
 Seller Ignition Follow Up Series Template (381 days of professional follow up messages)
 BONUS MODULE: Intensive Training on Hiring/Delegation: The Essential Wholesaling Team
 Full "Behind The Scenes" training for:
 How to Quickly Analyze a deal using "Propstream" technology
Best practices of Due Diligence using the "Rehabvaluator" calculator
REI Lead Conversion 
Masterclass Training Portal
ORDER NOW
Access 20+ Master Lead Conversion Modules in Just Minutes . . .